A slow and laggy computer is painfully hard to deal with, it's one of the most common issues that a lot of Windows users have to face. Over time, you might notice a significant drop in the performance of your computer, and there could be a lot of reasons behind it.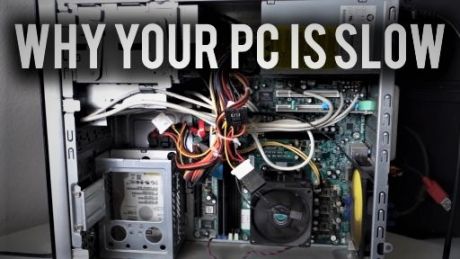 What's worse is that a slow computer can turn even the simplest tasks into a hard ones. If your computer is lagging and performing slow, it doesn't necessarily mean that you need to call the technician.
Computers and laptops slow down in terms of performance over a period of time, there are a number of reasons as to why it happens. If you're also going through the very same issue and would like to know the possible cause of it, then you're at the right place. In this article, we'll be showcasing a bunch of reasons that might be slowing down your PC.
Reasons Why Your PC is Getting Slow
It's usual for Windows users to face performance-related issues on their computers, however, if the issue persists for a long time, then you might consider checking the following reasons. There may be a lot of reasons as to why your computer is getting slow, it's not possible to conclude the exact cause without manual evaluation.
Go ahead and make sure the following things are taken care of before you rush to a service center.
Limit Startup Programs
Nowadays, a lot of programs, applications, software, etc start functioning as soon as the booting process is completed on your computer. Such applications run in the background and consume system resources without your knowledge, which in return, could cause your computer to slow down or lag while multitasking.
One of the most common causes of a slow and sluggish computer is too many startup programs and applications that tend to eat up system resources without the user's knowledge. For this, you need to open up the Task Manager utility tool and limit the number of Startup programs on your computer.
Your Hard Drive Has Become Old
A hard drive is of the key components of a computer that stores all your data such as files, apps, etc. Generally, hard drives are made of various moving parts, which spin thousands and thousands of times over the course of time, as a result, they tend to wear down after a certain period of time. Every hard drive has its own lifespan, after which, they start causing trouble to the user.
If you're experiencing longer wait times for opening applications, programs, etc, chances are, your hard drive is wearing down and you need to replace it with a new one. Moreover, make sure to install a large capacity hard drive, so that you don't end up running out of storage space, which could slow down your PC.
You Stored Way Too Much Data
Hard drives are meant to store data, however, that doesn't mean you can use 100% of its capacity for storing data. Usually, it's recommended to not exceed more than 90% of your hard drive's storage capacity, otherwise, it can slow down your computer significantly. Once the storage is full, there will be no place for Windows to store temporary files that are required to continue running the system.
As a result, you will end noticing a performance drop off your computer. Make sure to remove all the unnecessary files and programs, furthermore, maintain at least 20% free storage space all the time.
Remove Rogue Programs and Apps
There's a possibility that some of the apps or games that you have installed might have run into an error and therefore, it's stuck in a loop, leading to heavy resource consumption. Sometimes, a rogue application or program might be the cause of the issue. In such cases, you need to check which program is consuming more resources than usual on your computer.
To check this, open up the Task Manager and find the program that's eating up your computer's processing power more than usual. Select the app and disable/terminate it from the Task Manager window itself. This should restore the performance of your computer in a few seconds.
Monitor Your Anti-Virus Software
Anti-virus software is essential and helps in keeping your computer free from malware, viruses, etc. In order to make sure there are no viruses or malware in your system, the software will run deep scans which usually slows down the computer. It's possible that the Anti-virus program installed on your computer is running scans regularly, which is not required.
You need to head over to the settings menu of the Antivirus program and set the scanning frequency to weekly. Anti-virus scans eat up a lot of processing power, therefore, it's better to run the scan when you're not working on the computer.
Final Words
It's highly recommended to clean your computer by removing unnecessary files, programs, applications, from time to time, in order to maintain the performance. If you're continuously facing performance-related issues, we'd suggest getting the computer checked by a technician. In case your PC is too old, then performance issues would be common.