However, in the latest version of Windows 10, the option to create or add guest accounts on PC has been shifted to somewhere else, or you could say, the option has disappeared. You'll find multiple ways to enable guest accounts on Google, however, most of them make it look like the guest account has been enabled, and when you try to log in, it won't work and you will be forced to log in to your current account to access PC.
What is a Guest Account?
You can let other people use your computer without allowing them to change system settings or access your private files with the help of a guest account. Guest users can basically use your PC for Internet Browsing, playing games, running applications, etc pretty much anything, while keeping your files and settings safe. The guest account feature has always been a useful feature in Windows from the beginning.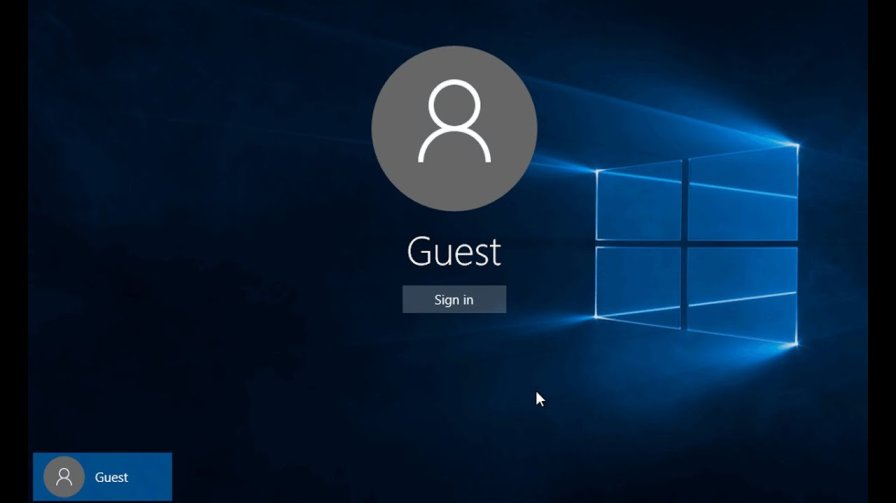 Therefore, we've decided to come up with this tutorial where you will learn how to actually create a guest account on your PC and allow others to use it. Let's go ahead and dive into the guide without wasting any further time.
Create Guest Account On Windows 10
A guest account is basically a restricted account, however, the guest user will be able to run apps and access pretty much anything, except your files and system settings. The tutorials that are available on the Internet are mostly complicated and lengthy, here is a quick and easy way to create a guest account on your Windows PC.
Go ahead and click on the "Start" or "Windows" menu on your desktop to begin.
Type "Command Prompt" in the search box and wait for the results to show up.
Right-click on the "Command Prompt" program and select the "Run As Admin" option.
Select the "Yes" option when prompted and wait for the Command Prompt to open up.
Now type the following command in the Command Prompt window and hit the enter button.
[Command To Paste:- net user Visitor /add /active:yes]
Next, you need to hit the "enter" button twice when you're asked to create a password for the guest account.
Now once again, you need to paste the following command and hit enter to proceed further.
[Command To Paste:- net localgroup users Visitor /delete]
Copy and paste the following command as well in the "Command Prompt" and wait for a response.
[Command To Paste:-net localgroup guests Visitor /add]
That's all, you may now close the command prompt window on your PC.
How To Switch To Guest Account On Windows
After performing the above-mentioned steps, a guest user account must have been created on your PC. Now you all have to do is simply log out of your current account and sign in to the newly created guest account. The steps to switch from a standard account to a guest account on Windows 10 are mentioned below.
Click on the "Windows" icon on your desktop or hit the "Windows" button on your keyboard.
Find the user name account icon in the menu and click on it to proceed further in the process.
Now you need to select the "Visitor" account from the list and wait for a few seconds.
Or, you can also choose the Visitor account directly from the Windows Login screen itself. This way, you can swap between visitor and user accounts on your PC without any hassle. You may now freely share your PC without your friends or family members while keeping your personal file and system settings safe.
How To Delete Guest Account On Windows
The guest account feature is quite useful that allows you to share your PC with others without letting them access your personal documents, files, or settings. Guest users will basically have the permissions to browse the internet, run software or application, media playback, etc.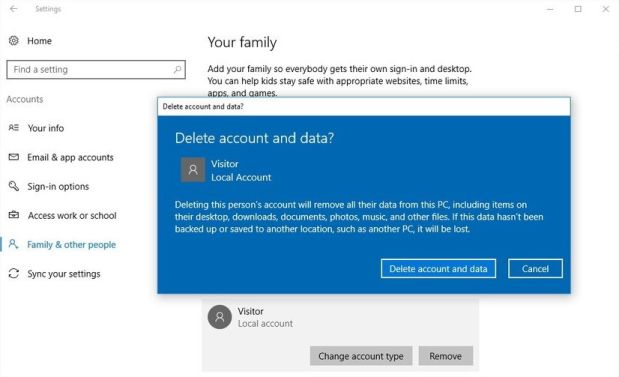 In case if you no longer need the guest account, then you can remove it from your PC and create it all over again if you ever need it in the future again. Go ahead with the following steps to quickly remove the guest account from your PC.
Hit the "Windows" button to open up the basic Windows menu on your screen.
Navigate to the "Settings" icon in the menu and open it up to begin the process.
Under "Settings", select the "Accounts" option to proceed further.
Click on the "Family & other users" option located in the left corner.
Select the "Guest or Visitor" account on the next account and click on the "Remove" option.
This will instantly delete the guest or visitor account from your PC.
Wrapping Up
The original Guest account feature might have been removed by Microsoft, however, all the elements and options that you need to create a guest account are still available in the latest version of Windows. Using the steps mentioned in the above guide, you can easily create guest accounts on your PC. Let us know if you need help with anything else.